If You Loved Tremulous You'll Love This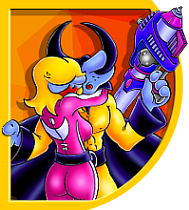 If you like free games such as Tremulous, you'll most likely like this game. It is a multiplatform first person shooter that offers a fresh take on the fps genre.
This cartoonish game distinguishes itself from other multiplatform games by being lackadaisical in disposition.
The environment reminds you of the movie "
Toy Story
". Its full 3D environment, though graphics card intensive could be described with two words: PURE DELIGHT.
I feel that this game is a badass 3D game rendition of the cartoon series the smurfs. However, that said, this game has an attitude - what with all the middle finger raising antics in its character selection screen and skimpy girl suits. If you like your kid to try this game out, you better use the filter
"Child Friendly Mod"
ironically posted by a guy named "horny".
To top that, the game runs in 3 platforms, Windows PCs, MACs, and Linux boxes.
Oh, by the way,
did I say that it was free?