Get the Ubuntu Pocket Guide by Keir Thomas for Free.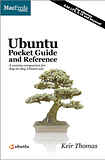 About the Author
Keir Thomas is one of the world's most prolific authors writing about Ubuntu Linux.
In 2005 he was amongst the first to realize the massive potential of Ubuntu. He persuaded
Apress
to let him write a book and the result was
Beginning Ubuntu Linux
.
Published in March 2006,
Beginning Ubuntu Linux
was the first English-language book to cover Ubuntu and went on to win a
Linux Journal
Editor's Choice award. It was followed by a second and then third edition, the last of which was published in June 2008.
In 2008 Thomas joined forces with
The Pragmatic Programers
to publish
Ubuntu Kung Fu
. Described by Thomas as "a one-chapter book full of fun tips", it is an innovative title that provides over 300 tips, tricks, hints, and hacks for Ubuntu. Like
Beginning Ubuntu Linux
, it has proven to be a best-seller.