I like to share awesome software and
Miro
is one of them. I've started using Miro for just about a month and I am generally very very very very happy with it. I found it by searching for 'podcast' in Synaptic.
I use it mainly as an iTunes free and open source alternative to download video podcasts.
Officially:
www.getmiro.com
Miro can automatically download videos from RSS-based "channels", manage them and play them. The application is designed to mesh with other PCF products such as Video Bomb, a social tagging video website, and the Channel Channel, a TV guide for internet television.

Miro integrates an RSS aggregator, a BitTorrent client, and a media player (VLC media player under Windows, QuickTime under Mac OS X or Xine Media Player under Linux).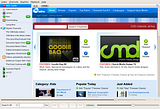 To get it, simply do this:
$ sudo apt-get install miro